Piet is a neat little esoteric programming language. It was invented by David Morgan-Mar. Each program is represented as a two dimensional image. The colorful pixels in the image describe the program's behavior.
People write programs which are artistic looking while performing some interesting computation.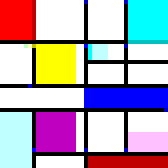 Check out http://www.dangermouse.net/esoteric/piet.html for more info.